Baby Dedication
If parents are considering to dedicate their baby at Mosaic,
as a couple, they need to read and discuss the article below.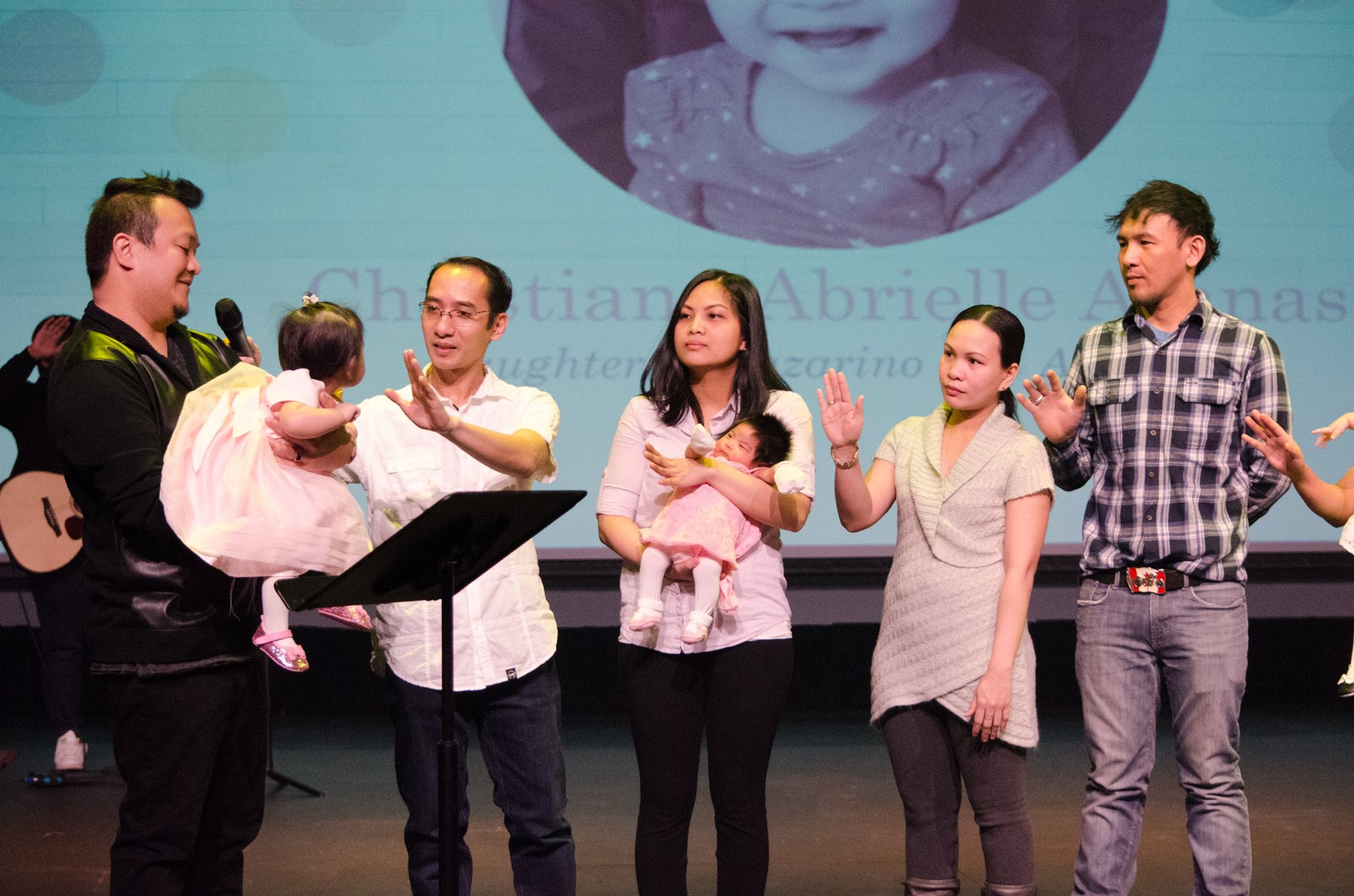 NEXT BABY DEDICATION
IS ON AUGUST 27, 2017
If you wish to have you baby dedicated, please contact us at:
REMEMBER:
– Book & Confirm the date with
one of our pastors. Indicate
your agreement with the article
you have read.
– Before August 25, send the following information:
A. Baby's and parents' full name
B. Baby's birth date and latest photo.
– Arrive on August 27th, at 10:30AM for
orientation before the worship experience.
It's exciting whenever a new child enters a family. There's no greater moment when parents sense that children are a gift from God. In these joyful moments, pastors have the privilege of sharing how parents can express their full appreciation to God through baby dedication.
What is Baby Dedication?
Baby Dedication is NOT baptism. We are not commanded in the Bible to baptize infants. Baptism is done only to people who are old enough to make a personal decision to follow Jesus.

Dedicating a child acknowledges God's sovereignty not only over the child, but also Mom and Dad. Parents present their child before God and His people asking for grace and wisdom in carrying out their responsibilities. Parents also come praying that their child might one day trust Jesus Christ as Savior for the forgiveness of sin.
Before the actual ceremony, it is crucial that you understand the meaning of Baby Dedication. The best Bible verse for this discussion is Deuteronomy 6:4-7. First, it commands parents to love God; if they truly wish for their child to one day love and follow God, their lives must be an example. This is a good time to query parents about their own personal relationship with Christ.
Also, Deuteronomy makes clear that the duty of teaching children belongs to parents; Sunday schools can provide weekly instruction, but parents must seize the teachable moments that arise throughout life. Parents are called to disciple and pastor their children. It is through them that kids learn the value of prayer (for example, repetitious prayers like "Now I lay me down to sleep . . .") at meal times and before bed, the power of God's Word and to lead them to read Bible stories for devotions and learn principles of obeying God, to give them practical ideas they can implement into their daily family routines. Another verse to support this idea of parenthood are in Psalm 127.
Godparents.
Sometimes it is custom for parents to choose godparent(s). Often viewed simply as an honorary title, its value however can be greatly enhanced by defining how this role will be carried out. Many godparents assume responsibility to provide cards and gifts of a Christian nature for the child on birthdays and holidays. Some periodically ask the parents how they are doing in training their child (Proverbs 22:6). Still others have arranged that in the event of the parents' unexpected death, the godparents will take the child into their home (This of course requires legal documentation).
Written by Ted Weis is pastor of the Congregational Church in Little River, KS.
Copyright 2016 Mosaic Lloydminster